Petcoke cargo hold cleaning chemicals Providers In Doha, Qatar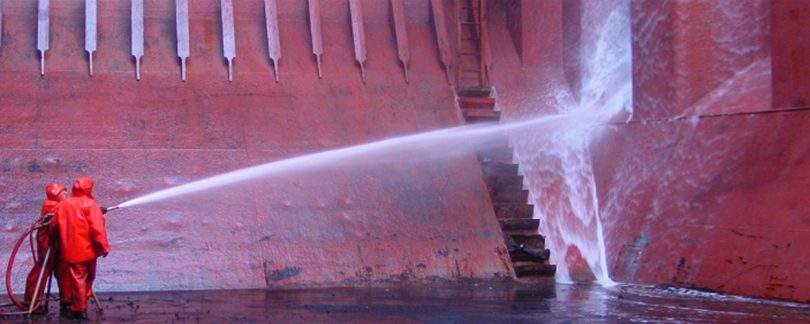 Aſter discharge of cargoes such as petcoke, coal, pencil pitch, coke, ores, minerals, cement, small cargo particles have adhered and penetrated the minute pores in the paintwork and are firmly attached. Therefore, the cleaning procedure for a new and sensitive cargo is usually costly and labor intensive, before cargo holds are acceptably cleaned. Even worse, sulphur, salt etc. will corrode the hold surfaces.
Fujairah Chemical is a world-famous manufacturer, supplier, and exporter of Hold Solution chemicals. RXSOL-22-2211-210 Barrier Hold Coat highly effective eco-friendly Product blending of natural ingredients which is provide thin temporary film on Hold Surface to protect corrosion. This is making a barrier between corrosive cargo like Sulphur, Salt, Petcoak, Cement etc and Hold surface. Specially manufactured our chemical using high-quality chemicals at our sophisticated manufacturing unit. These are highly acknowledged due to their accurate composition and effectiveness. These products are sourced from our trustworthy vendors and are available at competitive prices. Our product range is largely used in the different sector. Available in various packing 10, 20, 25, 210 Ltrs.
Benfits
liquid product for pet coke removal
Heavy duty water based cleaner
Effectively removes pet coke and mineral deposits from cargo holds & tanks
Quick and intrinsic action.
Also used to eliminate bad odors in tanks and other closed systems.
Cost effective, easy to apply and use.
Safe to use on all metals & alloys and/or rubber/plastic.
Non-flammable, non-toxic
Free from hydrocarbon solvents.
Fujairah Chemical offers highest quality products in tank cleaning, Hold Solution , Rust and Protection & Deck galley maintenance chemical. It is our endeavor to bring the highest level of purity in all the products. Our all product carries the assurance of high quality and high reliability. Our basic motto of the company is to give a better product to the customer at the lowest rate. We look forward to serving you with our definite intention to start a business relationship and to coordinate with your esteemed company. To know more contact us or email us at fujairahchemical@gmail.com